Business Transformation and perception
One of the biggest lessons for me as a leader was seeing how much credence both individuals and teams placed on their perceptions during periods of business transformation, rightly or wrongly. Managing perception will be a major undertaking for all leaders during periods of change. "An employee's perception of the degree to which their organisation has the flexibility to achieve change, and the extent to which they can actively and genuinely participate in the process, are important factors in achieving successful change" (Smith, I. 2005, Achieving readiness for organisational change). Clear and consistent communications between the manager and their team is essential in managing perceptions. It also allows for an understanding of the vision and reasons behind large-scale change. Managing perception also looks at how managers and leaders are supporting the change effort through their words and actions, which ultimately guides trust in those around them as to the validity of any change activity. There is a real danger that if perception is not managed [during periods of change] it becomes reality for your team and those around you.
If perception is not managed during periods of change it can become reality for your team and those around you Click To Tweet
Communications: both verbal and non-verbal
When communicating with your team you must be equally aware of what and how you present information, through both verbal and non-verbal communications. This theory is backed up by Collerette, Schneider & Legris (2003) who state that "all our behaviours contribute to communication and people give more credit to our actions than our words" (Collerette, P., Schneider, R., & Legris, P., 2003 Managing organizational change, Part 5 – Communication and change). It is advisable as a manager to ensure that from your leaders you have a clear idea of the reason behind the change so that you can easily communicate this to your team.
Empowering your people
Empowering individuals has also been highlighted as an area that is essential during change as it allows those individuals to feel in control, especially if these activities support the change initiative. "It is important that people at all levels of the organisation – especially those who work at action/operational levels – are empowered and enabled to explore ideas which support desired changes" (Smith, I. 2006, Continuing professional development and workplace learning –Achieving successful organisational change – do's and don'ts of change management).
Business transformation as BAU?
In isolation a manager can only do so much during business transformation and this is usually confined to a smaller sphere of influence. To be truly successful in any change an organisation needs to be structured in such a way that change is seen to be a normal activity – "what is needed is an organisational effectiveness model built on the assumption that continuous change is simply business as usual" (Worley, C.G., & Lawler, E.E. 2006, Designing organisations that are built to change). Organisations also need to reward employees on their skills and ability to develop new knowledge as well as their ability to deliver change. They should not be paid solely on position or be rewarded based on seniority.
As leaders/managers we can hire the correct people for an organisation, in particular those individuals who are happy with the notion of change as a BAU activity and, to a greater extent, have the personal characteristics required to be "change ready". Once you have recruited the right individuals it is then up to the leaders/managers to support the change and their team. It is also imperative that as a manager and leader, people should be dealt with in different ways; one size does not fit all. A close, open and honest relationship with your direct manager is also very important.
Its up to your leaders
Managing perception is fundamental for managers and leaders in supporting a business transformation effort, where your team's perception can alter their views (rightly or wrongly) on the validity of any change activity. Both verbal and non-verbal communications (see illustration below, where the % is the weight placed on non-verbal vs verbal communications) are super critical in how you deliver the change updates to your team. If the tone and body language (non-verbal communications) don't match up with the message you are delivering, trust will soon be lost. It's no good trying to deliver a positive message whilst you are shaking your head and looking at the ground. That is why during period of business transformation (or as it is currently known; Digital Transformation), it is so important to have the right person leading this transformation.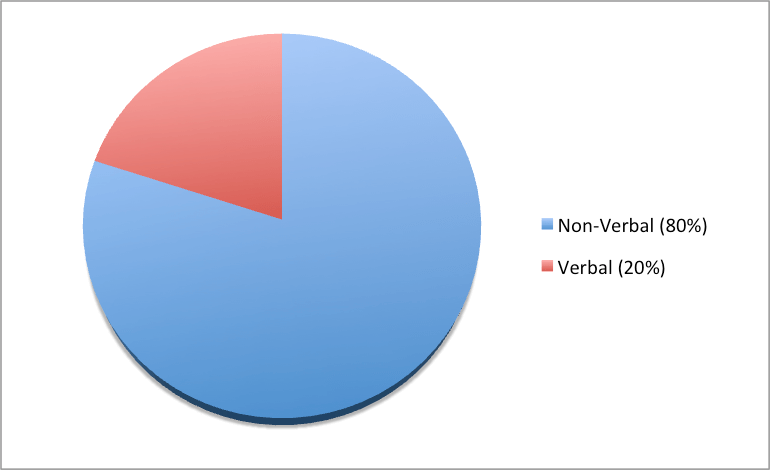 When it comes to Business Transformation, people should be dealt with in different ways; one size does not fit all Click To Tweet