Starting out on the Google AdSense approval path!!
I first started my blog (livingthetech.com) on Siteblog.com with 14 posts including videos (links via YouTube) and articles ranging from 800 to 1500 words, all original content with pictures (sourced via Google, but only those tagged as being able to be reused without restrictions).  I also had a link to my Twitter feed and social media sharing icons.  I started with Siteblog.com as it was very easy to get a blog up and running in a few hours, initially I only set up my blog to share views on digital topics as well as leadership and careers advice with no initial desire to monetize my site, let along look to get Google AdSense approval.  In the past I had produced quite a few articles and blogs for others and wanted to do something for myself.
Blog setup
Initially I had created pages on my site; for blog posts, about, contact me and resources/useful information. I had also installed a number of plugins (there are by far more plugins available on Bluehost compared with Siteblog), such as SumoMe which give me greater visibility on traffic to my site as well as enabling a more interactive social sharing capability.  After a lot of reading, particularly on resources from Alexander James and Jamie Spencer, I decided to try and monetize my blog, so I applied a number of times to get Google AdSense approval.  After around 6 unsuccessful attempts despite adding another 3 new posts I realized something had to change.  From further research I recognized that my site was missing a privacy policy, again after some digging around on the web I found a site called free privacy policy that assists you in creating a privacy policy, which is one of the essentials that Google looks for before it will approve an AdSense application.  So I applied again a couple of times for AdSense approval without any joy, so what was I doing wrong?
Moving to Bluehost.com
I decided it was the hosting platform that could be hindering me getting Google AdSense approval, so I moved all my blog posts to Bluehost.com on WordPress, I found a fellow blogger, Jamie Spencer who could install WordPress on my site for free. Once finished, Jamie sent me my username and password, having WordPress installed by an expert was invaluable in getting my new blog up and running.  I then had to choose a theme (I went for MH Magazine Lite as it had the layout I was looking for) as well as recreating all posts.  A big lesson learnt here was making sure you do your research and find a hosting platform you want to use and to stick with it (I also lost all my previous stats from Google Analytics as a result of changing hosting platforms).
My new blog
I created my new blog site on the Bluehost.com hosting platform with the following pages (below):

On the blog site there was a number of features such as; my Twitter feed, a link to my LinkedIn profile as well as the ability to subscribe to my blog (below) with simple social media share capability on all content.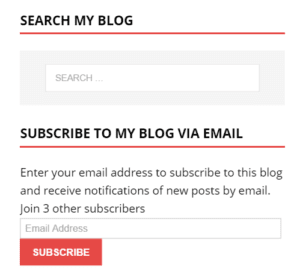 Once my site was up and running I installed a number of new plugins, there was certainly a lot to choose from, so my problem was picking the best ones, currently on my site I have:
Finally Google AdSense approval
I was now set up on Bluehost.com and decided to again apply for AdSense as I had created another 4 more blogs posts and was rejected once more, 13 attempts and counting.  So what was I doing wrong? again more reading ensued and more content creation, (I added a further 8 more posts), I also learnt to reuse some of my older posts by looking at previously posted topics from a different viewpoint or bullet pointing content rather than writing a number of paragraphs, I also added in quotes as well starting to write more about blogging in general and lessons I had learnt along the way.  I also installed the following plugins; All in One SEO Pack, Sitemap generator, Meta Tag Manager, with the aim of optimising my content for search engines.  So on the 14th attempt I received approval of my AdSense application (it took around 48 hours for the final approval email to come through) and adverts starting appearing after around 2 hours of receiving that final approval email from Google.
So don't give up, keep trying and make sure your blog is well optimized for search engines, with good original content (with external links if relevant) that attracts traffic.  Also don't forget to set up your Google Analytics account and link that to your AdSense profile.  I am now trying to put up 4 new pieces of content each month that are scheduled in advance, using the capability within WordPress.   I am also promoting my blog and selected posts via automated Tweets using Tweepsmap, Buffer and Tweet Jukebox, which has also helped drive traffic to my blog site.
So what's next….more content and increasing traffic to my blog, any guidance on what you have used to assist in your blog growth feel free to leave a comment below:
List of tools and plugins used on my WordPress site:
Akismet
Backup
Cache Enabler
Various Security plugins
Click to Tweet WordPress Plugin
Companion Sitemap Generator
Contact Form 7
Google Analytics
Jetpack by Worpress.com
Meta Tag Manager
SEO Friendly Images
WP Fastest cache
WP Sitemap Page
WP Super Cache
Click on this link to see why I decided to  start to blogging in the first place.  If there is any help you can give novice bloggers to enable them in getting Google AdSense approval please leave a comment below………..