Increase Twitter followers
I set up my Twitter account back in 2014 and had only really let it grow in followers by itself and back then only tweeted between 5 and 20 times a month which, unsurprisingly, meant I picked up very little in the way of followers in the process.  So in the beginning I was really into Twitter just to say I had an account and I only tweeted occasionally. I really did not have a plan for how and why I was going to use Twitter.
This may seem obvious to some but to a novice tweeter like myself who in hindsight lacked a plan or purpose for how he was going to use Twitter it was not all that obvious.  There are some lessons I learnt whist trying to increase Twitter followers, with the realization of how important a plan is in deciding how you are going to use social media platforms like Twitter and how it then fits in with your overall personal brand.
As you can see from September 2014 my Twitter activity was pretty poor, so things could only get better right?
So from around 15 tweets a month back in 2014 I now tweet over 350 time a month, with 49,000 impressions. As a result, I have and added over 150 new followers and, in July 2016 so far I am up another 170 new followers. But I reckon I have only scratched the surface and need to look at potentially automating/scheduling tweets with content I have created, or re-tweeting content that fits in with why I am using Twitter in the first place. My new goal is that by the end of 2016 I will get to 2000 followers and I'll increase my engagement rate. If anyone has any suggestions on how I can further increase my follower numbers and engagement rates, please comment below.
Twitter lesson 1 – Twitter Analytics
Learn about Twitter Analytics (by clicking on your profile picture) which I only just discovered.  This feature can give you better understanding of how effective your tweets are and how engaged your audience/followers are based on the Twitter activities.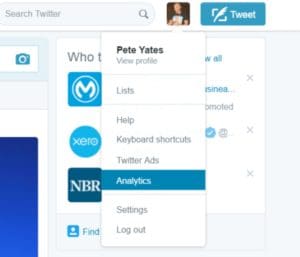 Through Twitter Analytics you can also look at all tweets you have sent in a particular period, click on the View all Tweet activity (as highlighted below)
Twitter lesson 2 – Actively Follow and engage in latest trends/events
Again it may seem obvious but you need to actually follow those people, organisations and causes etc. that you find interesting or want to actively engage with. Again link it back to your purpose for using Twitter.  Also another way to increase engagement, followers and to stay up to date is to look at what is trending on Twitter and, where possible, start tweeting using the correct hash-tags (e.g. recently we had #Brexit,  #Euro2016Final,  #USOpen).  In my job I am also fortunate enough to be able to attend quite a few conferences, seminars and other vendor events where I am actively engaging with the event hash-tag(s) and re-tweeting content from other like-minded Tweeters.
Twitter lesson 3 – Why are you using Twitter
Discovering the answer to this was my light bulb moment – why did I want to have a Twitter account and what was I going to use it for – business, pleasure or both?  It wasn't until I started my blog; livingthetech.com  where I decided to go with those topics that genuinely interested me, so for now i am sticking with Digital and IT careers advice, mixed in with general business/tech/career opinions/observations/lesson learnt.  That said I also wanted add more of my out of work interests, such as sport, travel and just generally enjoying and sharing all that New Zealand has to offer.  So in went for some key phrases in my Twitter account summary that reflected what I wanted to get out of Twitter, with a bit of self-promotion thrown in as well.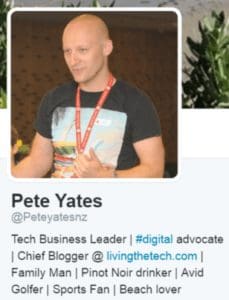 Twitter lesson 4 – Using graphics
When sending a Tweet use a picture, gif or infographic to further drive engagement, and yes it actually works, see below a Tweet I sent on the 7th July 2016 at roughly the same time, one with a gif and one without.  The Tweet with the gif received 87 impressions and the one without received 50, not massive numbers but hopefully proves a point.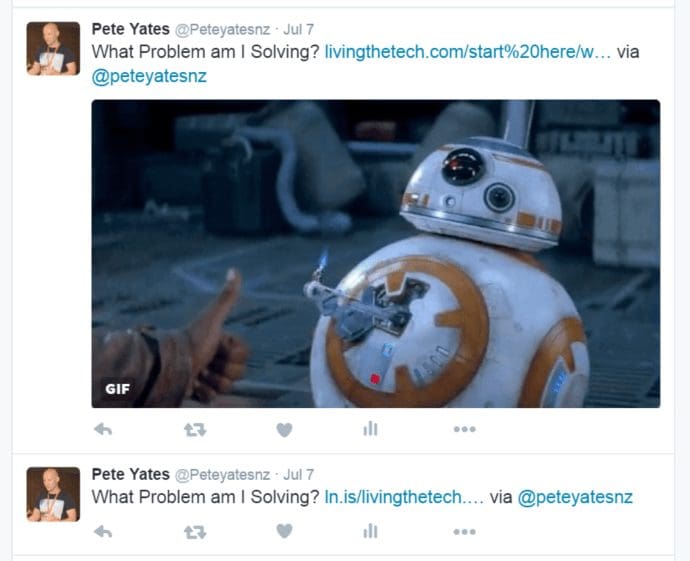 Twitter and Personal Brand
Above all, enjoy what you are doing with Twitter, use it as part of a personal brand strategy and to keep up to date with things you like (such as sport, politics or fashion) as well as a platform for sharing you own content or content you think would be great to share.  I also use a free product (paper.li) as a way of bringing content together from a number of sources which I enjoying reading and publishing it as a daily online paper that is posted to my Twitter account.  For me, setting a purpose as to why I use Twitter was important in guiding what content I shared, commented on or created via Tweets.  That said there are others ways to increase Twitter followers or engagement that I have read about such as asking for re-Tweets, I tried this but thought if my content is good enough it will get re-Tweeted anyway, so i stopped asking.
Twitter lessons learnt
I wanted to give you some real life lessons of how I managed to increase Twitter followers by a novice blogger and Tweeter that was not from a social media expert, but from someone who does not do this for a living.  That said, there is plenty of advice out there, such as the optimal time to Tweet or reducing the length of the links you provide.  Just try out a few of these things to see what works for you and your lifestyle.  Got any Twitter tips of your own that you want to share? please leave a comment below.   I will also produce future blog posts detailing my progress on how I am tracking to increase Twitters followers to 2000 by the end of the year with the ongoing engagement score and sharing any lessons learnt as well as any useful resources I encounter.
So what have you tried to increase Twitter followers?